Smoothies are the perfect way to complete your nutritional needs.
Are you worried about not getting enough nutrients into your body every day? If so, drinking healthy fruit smoothies is the right, delicious, and healthy way to deal with this. Smoothies are drinks that are packed with fruit, vegetables, whole grains, and more, and you will get a lot of energy from this drink. Plus, smoothies are also perfect for drinking on hot days.
This healthy smoothie is great for breakfast, lunch, or as an in-between snack. The following is an example of a simple, practical, and easy selection of fruit and vegetable smoothie recipes that people like.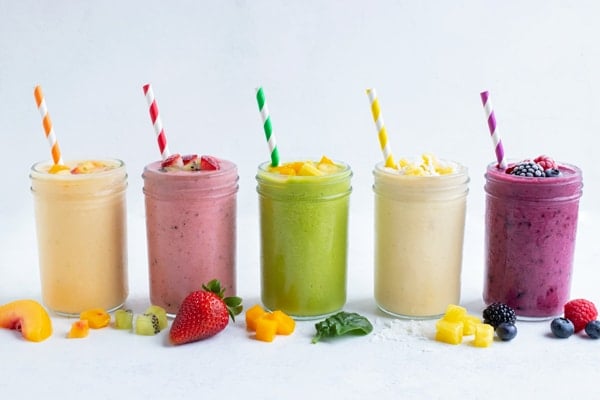 Strawberry Oatmeal Smoothie
This super simple strawberry oatmeal smoothie is easy for adults and teens to love, as it's made with strawberries, bananas, oats, and chia seeds. Packed with fiber, omega-3 fatty acids, potassium, and antioxidants, this smoothie has the perfect staying power to keep you full and healthy all morning or afternoon.
Ingredients that need to be prepared:
1 cup frozen strawberries
1 frozen or fresh banana
1/4 cup instant oats
1/2 tsp vanilla extract
1/2 tsp chia seeds
1 tsp honey optional
1 cup milk (cow's milk/almond/rice/flax/soy/coconut)
1/2 cup ice
How to make:
Place all ingredients in a blender and process for 1-2 minutes or until all ingredients are combined. Serve immediately for maximum flavor and freshness.
Avocado Green Smoothie
If you find it difficult to eat vegetables, this avocado green smoothie is the right drink for you to consume. This green smoothie is loaded with healthy fats from avocado, protein from yogurt and iron from spinach. This smoothie can be served as breakfast, lunch or a healthy snack for kids.
Ingredients that need to be prepared:
1/2 ripe banana
1/4 avocado
1/4 cup spinach
1/4 cup whole milk yogurt, or use plant-based yogurt for dairy-free
3-4 ice cubes
2/3 cup water
Chia seeds to taste (optional)
How to make:
Put all ingredients in a blender. Then blend on high speed for 1-2 minutes until the smoothie is really smooth and creamy. Smoothies should be blended until smooth to make it easy for your little one to drink from a straw. Pour the smoothie into a cup with a straw and serve.
So, hopefully useful for your health.
Easy Fruit and Vegetable Smoothie Recipe