Discovering Chivito Sandwich in Uruguay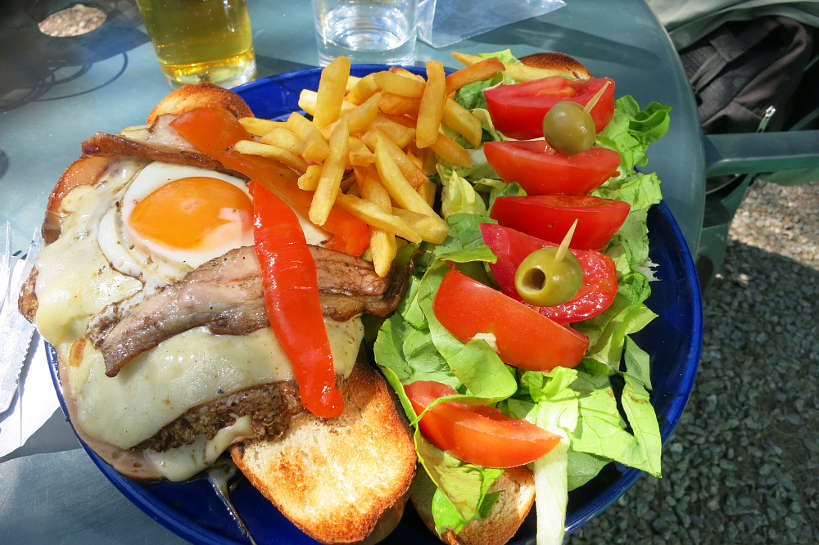 The Chivito is the "national sandwich of Uruguay" found all over the country. While exploring local food specialties in Colonia and Montevideo there was no shortage of places with Chivito on the menu. 
While in Colonia, we settled on El Drugstore, a quaint family-run restaurant with the Chivito specialty on the menu.
We ordered the chivito al plato or chivito as a platter for the first experience and a few days later ordered the Chivito sandwich at another local restaurant.
The Chivito al Plato is a serious dish filled with loads of meat and protein. It has a thin slice of churrasco or filet mignon beef, topped with bacon, mozzarella cheese, tomatoes, lettuce, mayonnaise, ham, olives, and a fried egg. 
On the menu, it was noted as a meal for two and it is definitively best shared as it is quite filling.
The Chivito sandwich or Uruguayan steak sandwich is very similar to the chivito al plato just with the addition of the bread.
It's a massive sandwich that really looks like two sandwiches put together. Best shared, the meat is piled up on each other, and delivers a flavorful and succulent experience.
This sandwich is surprisingly very juicy and tasty. It's no wonder why the Chivito is the national Uruguay dish.
How To Make Uruguay National Dish