1. Organic Wine Exchange – Best Overall Organic Wine Club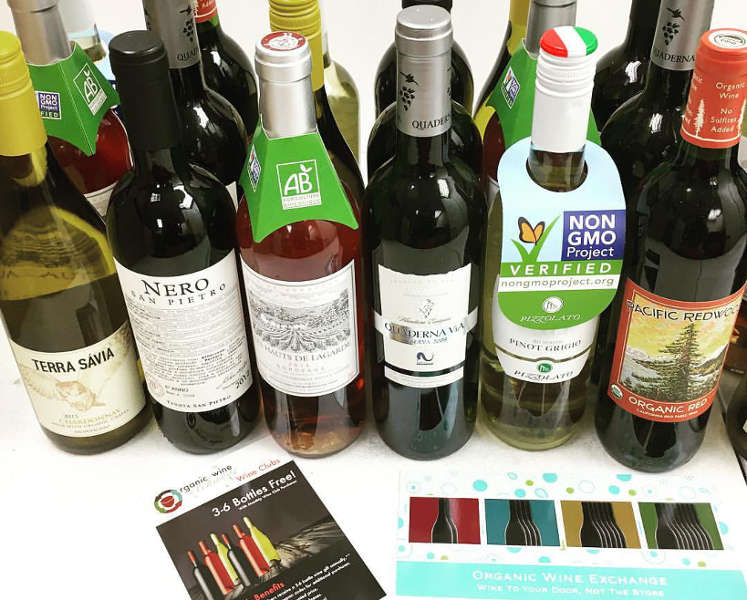 Tips: Save $10 by choosing the monthly shipment option
We found this option provided the best overall value when choosing among the organic wine clubs for this list. 
Organic Wine Exchange features only wines that are "Made with Organic Grapes" and sustainably grown wines.
Besides organic wines, the other wine subscriptions are a Biodynamic wine club, a Vegan wine club and a No Sulfites Added wine club.
All the wines are from national and international artisanal producers who adhere to strict organic winemaking techniques.
With the organic wine subscriptions club, you can choose to receive 3-, 6-, or 12-bottles every month or quarter. 
Once you choose either red wines, white or a mix of both, you'll receive organic biodynamic wines from domestic and international producers. 
Pay $80 per month to get access to quality wines made with certified organic grapes. This organic wine club focuses on US domestic shipping with free shipping provided. 
Note that they do not ship to five states with restrictive alcohol laws: AL, DE, KY, MS, UT.
Various coupon codes are available as well as a chat function on their website for personalized recommendations. 
The website also features educational content about sustainably grown wines from wine experts. In this way, they provide a high-quality experience that is hard to top. 
Just as importantly, we loved that this wine club offered organic wine online with a streamlined and efficient sign-up method. 
As a result, most find it relatively easy to select their wines and have their wine shipment delivered right to their door. 
The diversity of organic biodynamic wines also includes wine samplers. You can choose organic wine sampler packs from Italy, France, Spain and others, giving you even more options.
What People are Saying: Many customers praise this organic wine box delivery company and state that they provide one of the best options alone for the price. However, some did find the flat $80 monthly cost a little steep. In addition, this option is not suited for those on a budget, as many customers have stated. If you need a lower-cost option, you may want to look at other options below. 
5 Of The Best Organic Wine Clubs To Sip On